Blackmagic: Universal VideoHub 288

Key Features
Fully Scalable
Add either SDI or Optical Fiber SDI interface cards
Auto stand detection
Handles mixed SD, HD and 3 Gb/s SDI connections
Deck control
Re-clocking
24/7 reliability
Package Includes
Build your own router with Universal Videohub 288!
If you're looking for true redundancy and the ability to build your own router with both BNC SDI and optical fiber SDI, then Universal Videohub is the perfect choice. Universal Videohub comes in two models for a maximum 72 x 72 or 288 x 288 crosspoint size, and because every module in the router is card based, you can mix and match components to get the router you need, and hot swap cards in the unlikely event of failure!
Universal Videohub includes powerful features such as SD, HD and 3 Gb/s SDI auto-switching, built in deck control ports, and ethernet and serial crosspoint control. The larger Universal Videohub 288 model supports dual crosspoint and power supply cards for full redundancy. With Universal Videohub, you get flexibility, quality and redundancy, all at an incredibly affordable price!
The Universal Videohub 288 is the ultimate 3G/HD/SD and deck control routing switcher. With a choice of 72 x 72 or 288 x 288 crosspoint cards, the frame can be easily upgraded using our hot swappable regular BNC SDI or optical fiber interface modules that also include full deck control. If you need redundancy then simply add a second crosspoint card for true 24/7 reliability!
All inputs have auto standards detection and all outputs are re-clocked. Universal Videohub 288 features an 18 rack unit frame that is less than 6 inches deep. You also get ethernet and serial connectivity, third party control and redundant power supplies. Universal Videohub 288 lets you start small for an affordable cost and then expand its size and even add full redundancy as your needs grow!
Build it Yourself
Universal Videohub ships unpopulated, without any cards plugged in, so you are free to build your router any way you want! For example, you can plug in BNC SDI cards and optical fiber SDI cards in any combination depending on the equipment you have. This makes it easy to partially load SDI interface cards, to start at an affordable size, and then add more SDI interface cards over time to grow to a massive 288 x 288 size! To make scalability even easier, the cross point card and power supply cards from the Universal Videohub 72 can be plugged into the Universal Videohub 288. Only Universal Videohub lets you upgrade to a larger rack frame and keep their entire investment in interface cards and power supplies!
24/7 Broadcast Reliability
Universal Videohub is the router you need for true 24/7 reliability because its card based design lets every electronic component be easily replaced in the rare event of failure. Universal Videohub has no electronic components on the motherboard and all electronics can be hot swapped with replacements in case of failure, or when upgrading. Universal Videohub 288 even includes an extra slot for a redundant cross point and power supply. In case of failure, the cross point will instantly change over allowing continuous operation.
True Multi Fault Redundancy
Universal Videohub 288 also offers true multiple fault redundancy, where different faults in both crosspoint cards can be handled. In the rare event of multiple faults occurring in both cross point cards, Universal Videohub 288 automatically detects and combines the still functioning parts of both cross point cards together to keep the router running. That's true multiple fault tolerance, unique to Universal Videohub, and eliminates any situation where a faulty crosspoint can go unnoticed and then be unavailable if the main crosspoint fails.
SDI Re-Clocking
Videohub also includes built in SDI re-clockers on each SDI input which regenerate the SDI video signal. Every inch of video cable from your SDI video devices degrades the SDI signal. Expensive premium grade "digital" cables can help, however simply cannot eliminate this loss. With SDI re-clocking you can have a regenerated and clean SDI signal out to all the SDI devices in your studio. That means longer cable lengths, and no glitches in your video.
Simultaneous SD, HD or 3 Gb/s Video
Videohub makes it easy to run Standard Definition and High Definition equipment now and add 3 Gb/s SDI equipment in the future. That's because Videohub handles mixed SD, HD and 3 Gb/s SDI connections all on the same router at the same time. Videohub automatically detects when an SDI input changes, and instantly sets all SDI outputs connected to that input to match. SDI re-clocking and output SDI slew rates change automatically.
World's Highest Quality 3 Gb/s SDI
With the exciting new 3 Gb/s SDI connections built in, Videohub allows twice the SDI data rate than normal HD-SDI. Use 3 Gb/s SDI for high resolution real time 2048 x 1556 feature film editing. 3 Gb/s SDI has full compatibility with SD, HD or 2K in 4:4:4 or 4:2:2 all with a single BNC cable. With 3 Gb/s SDI built in, you have full compatibility with all your current standard definition SDI and high definition SDI equipment, plus any new formats that come along in the future. With Videohub, your studio is future proof.
Build Your Own Universal Videohub 288!
Universal Videohub 288
Rack frame lets you add up to 72 BNC SDI or optical fiber SDI interfaces plus a single 72 x 72 or dual 288 x 288 crosspoint cards and up to two power cards. Add a single crosspointfor affordability, or add dual crosspoint and power cards for full redundancy. Includes removable fan tray and fans.
Universal Videohub 288 Crosspoint
Supports up to 288 x 288 SDI and 288 x 288 deck control, ethernet/serial router crosspoint control, genlock, alarm GPI and alarm indictors. Compatible with Universal Videohub 288 frame.
Universal Videohub SDI Interface
Includes 4 SDI inputs and 4 SDI outputs, plus 4 deck control. Includes full re-clocking and auto switching SD, HD and 3 Gb/s SDI.
Universal Videohub - Optical Interface
Includes 4 inputs and 4 outputs plus 4 deck control, re-clocking and SD, HD and 3 Gb/s. 1310 nm laser drivers and receivers up to 25 km at 3 Gb/s.
Universal Videohub - 800W Power Supply
Required when building a fully loaded router with mixed optical fiber and BNC SDI modules. Includes power cards, cables and 1 rack unit power supply with dual redundant 800 Watt 12 volt power supplies.
Universal Videohub - Remote Cable
If you need remote control then use this cable to add four independent remote control ports to either the BNC SDI or optical fiber SDI interfaces!
Connections
SDI Video Input
Up to 288 x SDI/HD-SDI, 3Gb/s SDI and ASI. Can be BNC SDI or optical fiber SDI.
SDI Video Output
Up to 288 x SDI/HD-SDI, 3Gb/s SDI and ASI with SDI re-clocking. Can be BNC SDI or optical fiber SDI.
Reference Input
1 x Black burst and Tri-Sync for all SD, HD and 2K SDI and optical connections.
Updates
USB 2.0 high speed (480Mb/s) interface.
Multi Rate Support
Auto detection of SD, HD or 3G-SDI. Simultaneous routing of 2K, HD, SD video and DVB-ASI.
Device Control
Up to 288 bidirectional Sony™ compatible RS-422 deck control ports via breakout cable.
Router Control
Use either RJ45 Ethernet or Smart Control or Master Control shared over IP network.
Router Configuration
Use either RJ45 Ethernet or USB 2.0 (IP setting only) high speed interface shared over IP network.
RS-422 Router Control
1 x input for controlling router crosspoint switching.
Reclocking
On all SDI outputs.
GPI
GPI connector for connecting external alarms.
Standards
SD Format Support
625/25 PAL and 525/29.97 NTSC.
HD Format Support
1080p23.98, 24, 25, 29.97, 30, 50, 59.94, 60.
1080PsF23.98, 24, 25, 29.97, 30.
1080i50, 59.94, 60.
720p23.98, 24, 25, 29.97, 30, 50, 59.94, 60.
SDI Compliance
SMPTE 259M, SMPTE 292M, SMPTE 296M, SMPTE 310M, SMPTE 425M-A, SMPTE 425M-B, ITU-R BT.656 and
ITU-R BT.601.
2K Format Support
2048 x 1556p23.98, 24, 25.
SDI Video Rates
SDI video connections are switchable between standard definition, high definition and 2K. SDI switches between 270 Mb/s standard definition SDI, 1.5 Gb/s HD-SDI and 3 Gb/s HD and 2K SDI.
SDI Video Sampling
4:2:2 and 4:4:4.
SDI Color Precision
4:2:2 and 4:4:4 10-bit.
SDI Audio Sampling
Television standard sample rate of 48 kHz and 24-bit.
SDI Color Space
YUV or RGB.
SDI Auto Switching
Automatically selects between SD-SDI, HD-SDI, 3G-SDI and DVB-ASI on each input so that each input can be running a different television standard.
SDI Metadata Support
Video payload identification ancillary data as per SMPTE 352M.
Software
Internal Software Upgrade
Via included firmware updater application.
Software Control
Router control included free for Windows™ and Mac OS X™.
Power Requirements
Power Supply
Redundant power supply options are available.
Power Fail Protection
Router connections preserved and restored instantly at power on independently of host computer.
Physical Specifications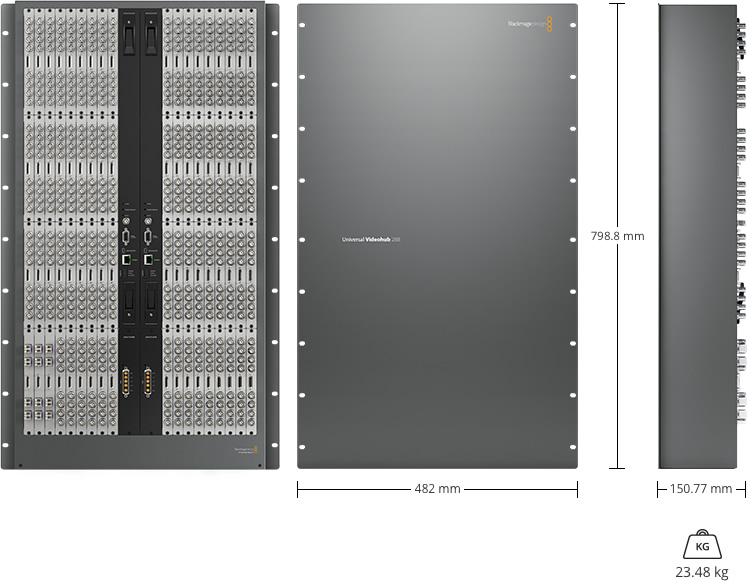 Physical Installation
18 rack unit size. Less than 6 inches deep.
Environmental Specifications
Operating Temperature
0° to 40° C (32° to 104° F)
Storage Temperature
-20° to 45° C (-4° to 113° F)
Relative Humidity
0% to 90% non-condensing
Warranty
3 Year Limited Manufacturer's Warranty.