AJA: IPR-1G-SDI JPEG 2000 IP Video and Audio to 3G-SDI Mini-Converter
Key Features
1x RJ-45 (IEC 60603-7) for 10/100/1000Base-T Ethernet media input
Essence support: VSF TR-01 and other JPEG 2000 MPEG-2 workflows
Rugged, fanless design
2x 3G-SDI BNC output with 4:2:2 10-bits/pixel
Embedded and analog audio outputs
Full 10-bit pixel processing pipeline
Network (LAN) control and status
Quick network setup with AJA eMini-Setup software
1x RJ-45 (IEC 60603-7) for 10/100/1000Base-T Ethernet control input
HTTP/1.1 (RFCs 7230, 7231, 7232, 7233, 7234, 7235)
Web and REST clients supported
1x USB 2.0 Mini-B connector
AJA eMini-Setup software setup of network parameters
AJA: JPEG 2000 IP Video and Audio to 3G-SDI Mini-Converter
The IPR-1G-SDI is a bridge from IP to SDI with VSF TR-01 (and other JPEG 2000 formats) to 3G-SDI support, suited for point of use applications including source monitoring, transfer to VTRs and switchers, digital signage, video walls and more. The IPR-1G-SDI decodes VSF TR-01 streams then formats the data for 3G-SDI output. The audio associated with the video stream is extracted, synchronized, and then embedded into the SDI stream as well as output on an analog RCA stereo interface.
IPR-1G-SDI extracts a JPEG 2000 essence from an incoming IP stream and presents it for display, routing, recording and more on SDI devices. It's rugged, fanless, Mini-Converter design is ideal for placement in a wide range of display scenarios, from studios to field.
User Control
IPR-1G-SDI provides two key ports for control. The Control LAN Ethernet port enables control of the Mini-Converter from web browsers on any platform and REST clients. The USB 2.0 mini connector facilitates quick and simple firmware updates.
Workflows: Facilities
IPT-1G-HDMI partners with AJA IPR Mini-Converter receivers and KONA IP for use in desktop workstations for reach throughout a facility or organization, local or remote.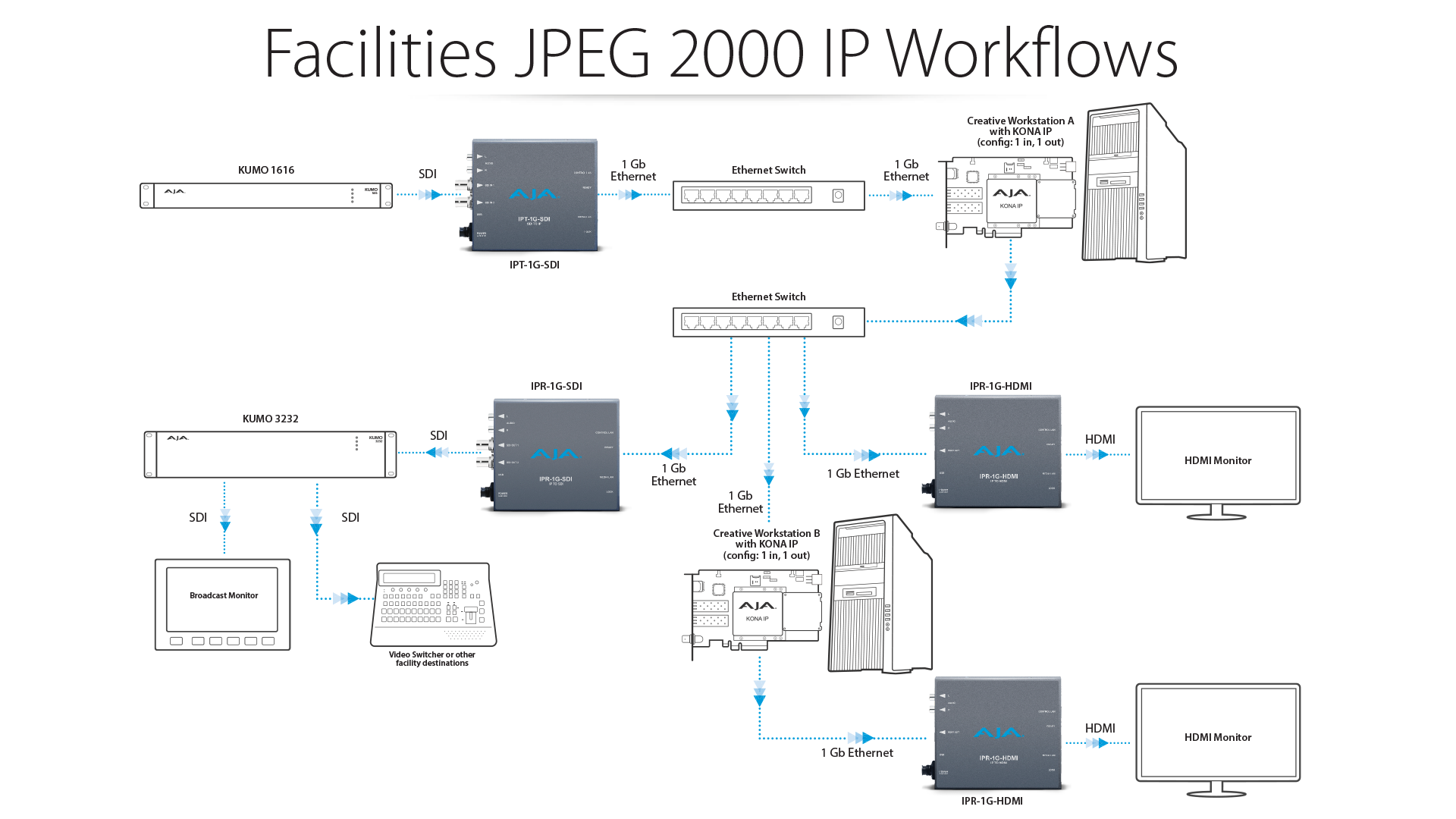 Workflows: Creative Suites
IPT-1G-HDMI partners with AJA IPR Mini-Converter receivers and KONA IP for use in desktop workstations and simple expansion to other devices, displays and more over IP.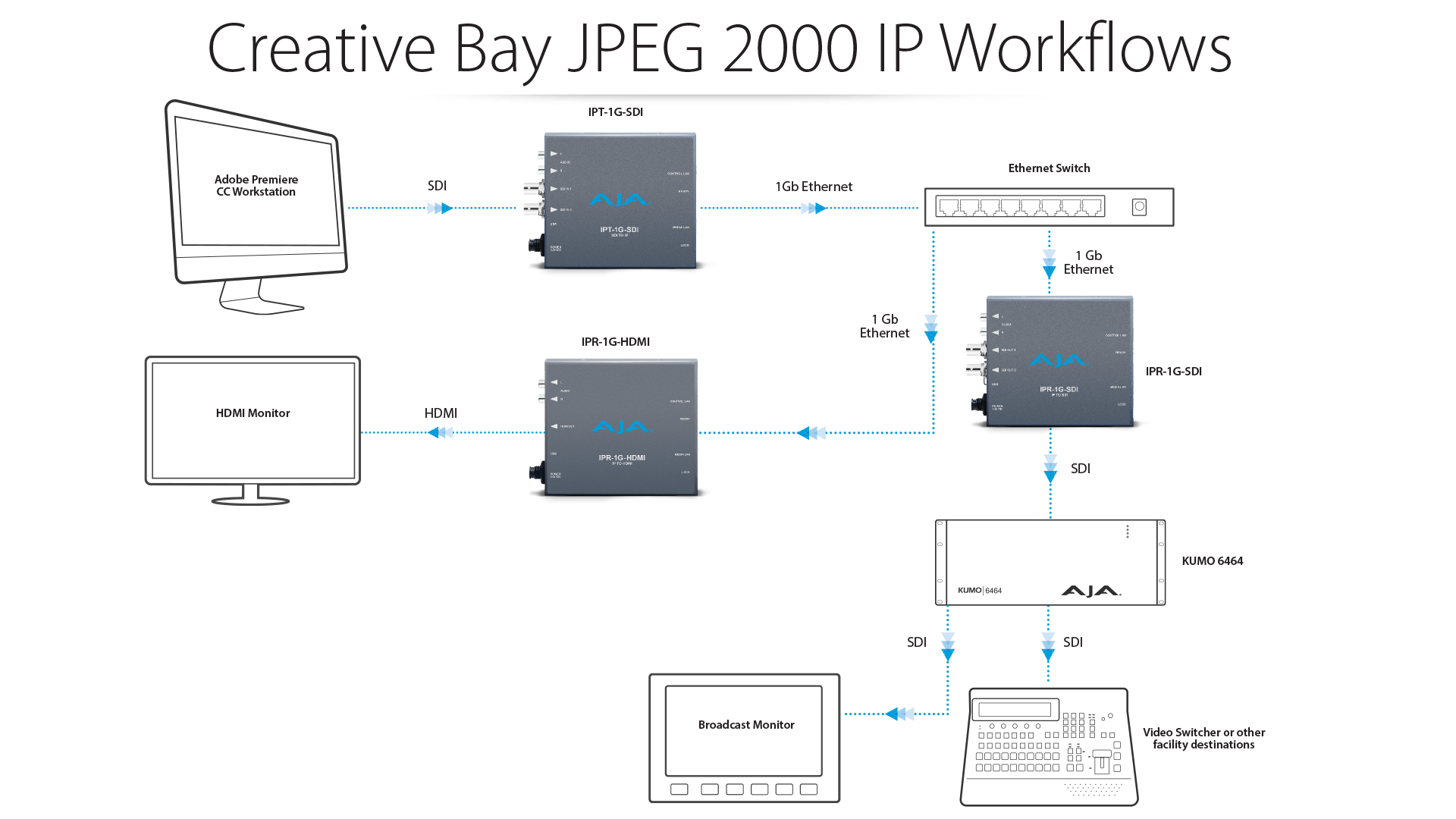 Universal Power Supply
All AJA Mini-Converters ship with a universal power supply that includes international plug connections for use around the world.
Compact and Portable
AJA Mini-Converters are small enough to fit behind a monitor, in the back of a rack or directly on a camera rig. A locking power connector can't accidentally pull loose and an optional P-TAP power cable allows for battery power in remote locations.
AJA Quality - Guaranteed
All AJA Mini-Converters are covered by a 5 year warranty and AJA's advanced replacement policy. If a replacement is necessary, AJA will ship a new unit immediately without the need to send the original unit back first, ensuring you are up and running again as quickly as possible.
Tech Specs
---
Video Formats
• (2K) 2048 x 1080p 23.98, 24, 25, 29.97, 30, 50, 59.94, 60
• (HD) 1920 x 1080p 23.98, 24, 25, 29.97, 30, 50, 59.94, 60
• (HD) 1920 x 1080i 25, 29.97
• (HD) 1280 x 720p 50, 59.94, 60
• (SD) 625i 25
• (SD) 525i 29.97
---
Essense Input
• 1 x RJ-45 (IEC 60603-7) for 10/100/1000 Base-T Ethernet (IEEE 802.3-2012)
• VSF TR-01 and other JPEG 2000 MPEG-2 TS workflows
---
Outputs
• 2 x 3G SDI BNC
• 4:2:2 10-bits/pixel (embedded audio)
• 2 x RCA analog audio
• Levels at -10 dBu (nominal)
---
User Controls
• 1 x RJ-45 (IEC 60603-7) for 10/100/1000 Base-T Ethernet (IEEE 802.3-2012)
• HTTP/1.1 (RFCs 7230, 7231, 7232, 7233, 7234, 7235)
• Web and REST clients supported
• 1 x USB 2.0 Mini-B (IEC 62680-1) connector
• AJA eMini-Setup of network parameters
---
Size (w x d x h)
• 5.53" x 4.48" x 0.954" (140.462mm x 113.792mm x 24.232mm)
---
Weight
---
Power
• Uses AJA power supply model DWP-U-R1, included with purchase
• 100-240V, 50/60 Hz Universal input
• +5 to 20V DC regulated, 12 watts max
---
Environment
• Safe Operating Temperature: 0 to 40 degrees C (32 to 104 degrees F)
• Safe Storage Temperature (Power OFF): -40 to 60 degrees C (-40 to 140 degrees F)
• Operating Relative Humidity: 10-90% noncondensing
• Operating Altitude: <3,000 meters (<10,000 feet)