AJA: IPR-1G-HDMI JPEG 2000 IP Video and Audio to HDMI Mini-Converter
Out Of Stock
Ships in 3-5 days
Key features
1x RJ-45 (IEC 60603-7) for 10/100/1000Base-T Ethernet media input
Essence support: VSF TR-01 and other JPEG 2000 MPEG-2 workflows
Rugged, fanless, portable design
Full size HDMI 1.4 video output
Embedded and analog audio outputs
Full 10-bit pixel processing pipeline
Network (LAN) control and status
Quick network setup with AJA eMini-Setup software
1x RJ-45 (IEC 60603-7) for 10/100/1000Base-T Ethernet control input
HTTP/1.1 (RFCs 7230, 7231, 7232, 7233, 7234, 7235)
Web and REST clients supported
1x USB 2.0 Mini-B connector
AJA eMini-Setup software setup of network parameters
AJA: JPEG 2000 IP Video and Audio to HDMI Mini-Converter
Bridging JPEG 2000 over IP to HDMI, the IPR-1G-HDMI is a VSF TR-01 (and other JPEG 2000 formats) to HDMI receiver suited for point of use applications including source monitoring, digital signage, and video walls. The IPR-1G-HDMI decodes VSF TR-01 JPEG 2000 streams then formats the data for output on a full size HDMI 1.4 interface. The audio associated with the video stream is extracted, synchronized, and then embedded into the HDMI signal as well as output on an analog RCA audio interface.
Features
IPR-1G-HDMI extracts a JPEG 2000 essence from an incoming IP stream and presents it for display on HDMI devices. It's rugged, fanless, Mini-Converter design is ideal for placement in a wide range of display scenarios, from studios to field.
User Control
IPR-1G-HDMI provides two key ports for control. The Control LAN Ethernet port enables control of the Mini-Converter from Web browsers on any platform and REST clients. The USB 2.0 mini connector facilitates quick and simple firmware updates.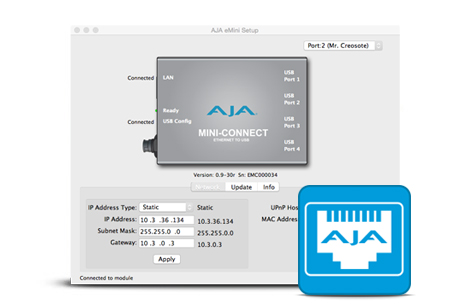 Workflows: Facilities
IPT-1G-HDMI partners with AJA IPR Mini-Converter receivers and KONA IP for use in desktop workstations for reach throughout a facility or organization, local or remote.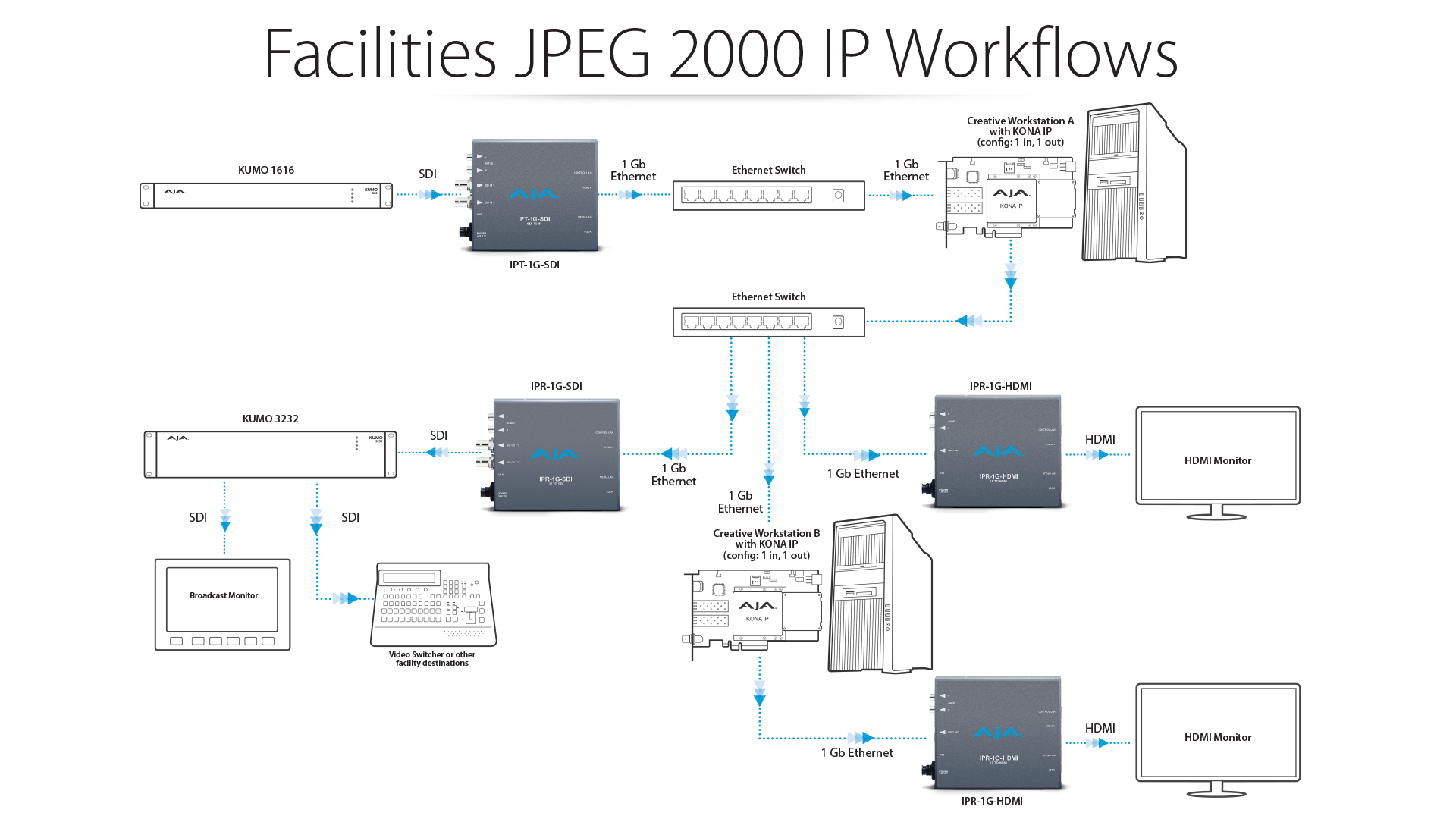 Workflows: Creative Suites
IPT-1G-HDMI partners with AJA IPR Mini-Converter receivers and KONA IP for use in desktop workstations and simple expansion to other devices, displays and more over IP.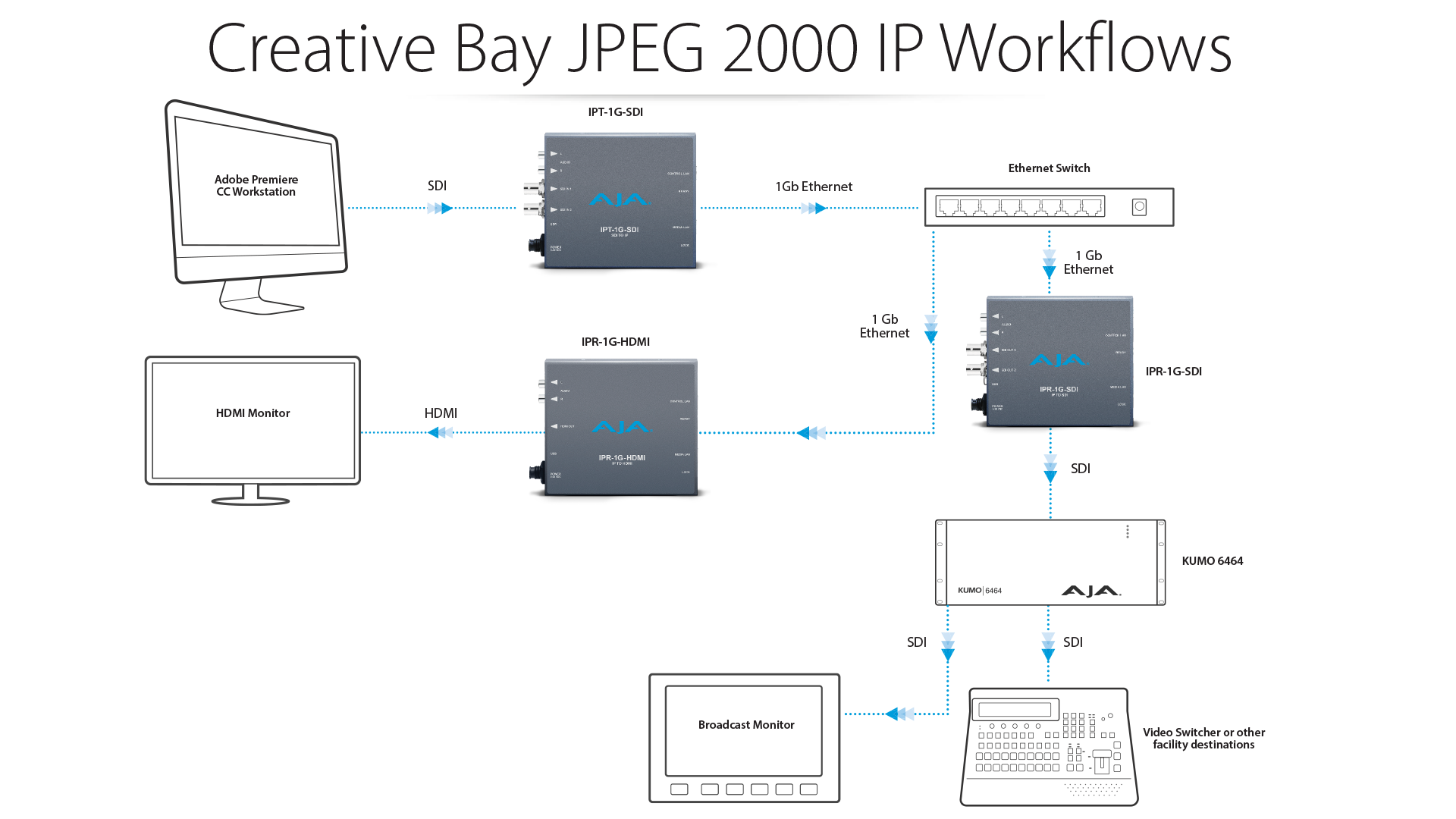 Universal Power Supply
All AJA Mini-Converters ship with a universal power supply that includes international plug connections for use around the world.
Compact and Portable
AJA Mini-Converters are small enough to fit behind a monitor, in the back of a rack or directly on a camera rig. A locking power connector can't accidentally pull loose and an optional P-TAP power cable allows for battery power in remote locations.
AJA Quality - Guaranteed
All AJA Mini-Converters are covered by a 5 year warranty and AJA's advanced replacement policy. If a replacement is necessary, AJA will ship a new unit immediately without the need to send the original unit back first, ensuring you are up and running again as quickly as possible.
Tech Specs
---
Video Formats
• (2K) 2048 x 1080p 23.98, 24, 25, 29.97, 30, 50, 59.94, 60
• (HD) 1920 x 1080p 23.98, 24, 25, 29.97, 30, 50, 59.94, 60
• (HD) 1920 x 1080i 25, 29.97
• (HD) 1280 x 720p 50, 59.94, 60
• (SD) 625i 25
• (SD) 525i 29.97
---
Essense Input
• 1x RJ-45 (IEC 60603-7) for 10/100/1000 Base-T Ethernet (IEEE 802.3-2012)
• VSF TR-01 and other JPEG 2000 MPEG-2 Workflows
---
Outputs
• 1 x HDMI Standard Type A connector
• HDMI v1.4a 24/30 bits per pixel, RGB/YUV
• 2 x RCA analog audio
• Levels at -10dBu (nominal)
---
User Controls
• 1 x RJ-45 (IEC 60603-7) for 10/100/1000 Base-T Ethernet (IEEE 802.3-2012)
• HTTP/1.1 (RFCs 7230, 7231, 7232, 7233, 7234, 7235)
• Web and REST clients supported
• 1 x USB 2.0 Mini-B (IEC 62680-1) connector
• AJA eMini-Setup of network parameters
---
Size (w x d x h)
• 5.53" x 4.48" x 0.954" (140.462mm x 113.792mm x 24.232mm)
---
Weight
---
Power
• Uses AJA power supply model DWP-U-R1, included with purchase
• 100-240V, 50/60 Hz Universal input
• +5 to 20V DC regulated, 12 watts max
---
Environment
• Safe Operating Temperature: 0 to 40 degrees C (32 to 104 degrees F)
• Safe Storage Temperature (Power OFF): -40 to 60 degrees C (-40 to 140 degrees F)
• Operating Relative Humidity: 10-90% noncondensing
• Operating Altitude: <3,000 meters (<10,000 feet)